Natchanok Pheangphromma / MA Candidate
Department of Chinese as a Second Language
"Fear" is a powerful word because it can keep you away from danger, but on the other hand, it also keeps you away from opening a new door of your life. Some people might fear of the dark, ghost, height or more things that they think it is scary an unnecessary for them to encounter, but for me, my fear is something that cannot be avoid, my fear is to getting out of my own comfort zone. Leaving my 2 years work and moved to a country of bubble tea like Taiwan to study master's degree is my father's will, I had no choice but to did it for him, who knows, studying at National Taiwan Normal University would completely change my whole life.
Study master degree is my father's will but beside of money issues every procedure after that I had to took care of it by myself, I might be lost in half way if I did not receive help from NTNU's office of international affairs, Miss Lily Lai. Miss Lily Lai is my first Taiwanese person that I knew. Due to Covid-19, coming to Taiwan to study is harder than ever. My flight was cancelled 3 times, office of passport division in Thailand was closed and many others problem that I could not expect, but Miss Lily always been there helping me through every problem. At first, I really do not want to talk with her because I am afraid that she will be tired by me with my handful problem, but she was so kind. It always been a little struggle to solved all the problems but we finally got it in the end. And then when I finally entered Taiwan and had a chance to meet her in person, I could remember her angelic smile that melt down a little of my fear. That was the first time that I started to think about get to know more new people because I want to meet more kind people just like her.
My first semester was a little bit messy because it was the first time for me to study in absolutely Chinese language, I hardly understand my teachers' word and felt so lonely but my Chinese language's teacher, professor Chia-Ling Hsieh, had noticed my problem and immediately came to help me with her magical solution. Professor Hsieh always let us leave our comment after class, I remember that time I really felt so tired so I did not leave any word to her except a crying emoticon. I did not expect that she will immediately contacted me and told me that she understands how hard it would be for me as an international student to learning everything in Chinese, she also told me that she already paired up international students and Taiwanese students in her class together to help each other, here came my first Taiwanese friend, Guan-Yu Huang. I got an A in this class because of professor Hsieh and Guanyu's help, my will to meet kind people has come true.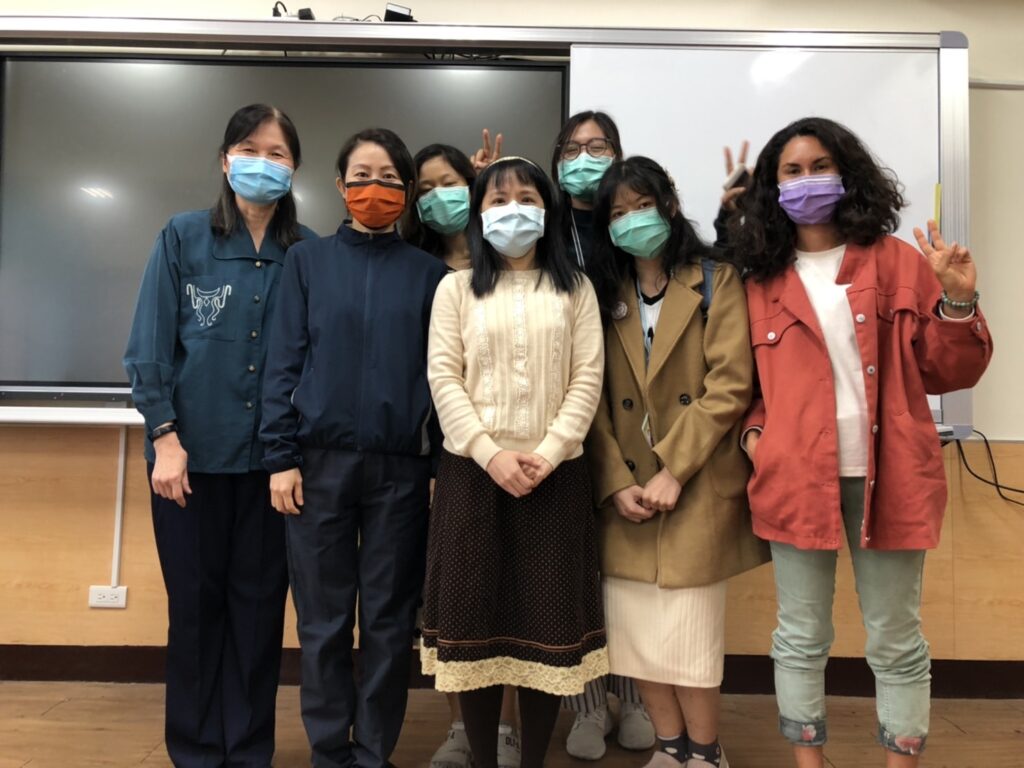 Along of the fun activities in classes, NTNU also had a lot of cultural exchange activities for us to join, with no fear, I joined one of it and did not regret my choice because this time through the activity, I met more nice friends than I could have ever dreamed of. Mingyu is a bachelor degree's student and Yuanyu is a master degree's student. First time when we met, I remember three of us had a long-long conversation that when we looked up to the clock it was already passed 3 hours. We had a lot of fun that day and we still keep going out to have a lunch together sometimes. On Christmas's Day, we exchanged some candies and hand writing letters, in the letters, what they want from me is just to have a lot of fun in Taiwan, and what I want from them, is just when I go back to my hometown, we will still keep our friendship going on. My fear has completely melted down because of warm hugs from everybody's here.
My grandmother once told me : "No matter how healthy a flower seed is but if we put it in a bad environment, it is possible that it could grow to be a flower or only just to be a grass which will never ever have a chance to bloom, but in the other way, if we put a seed in a good environment, give them fertile soil, enough water, enough sunlight, although that seed might not be the healthiest one, it might take some times but it will growing and blooming for sure". It is the same as what I have experienced now, NTNU is that fertile soil, the professors who always take good care of me are water, all my NTNU fellows are sunshine, and I'm a hopeless seed that will definitely bloom in sometimes because I'm already been put into a good place to grow just like NTNU.