Discovering the World with Foreign Students
Zi-Ying Weng 22′
Department of Chinese as a Second Language
I have been learning English, Korean and German for several years. Being a multiple language learner, I am always eager to meet language partners whether out of or on campus. Via language exchange system in Mandarin Training Center in National Taiwan Normal University, I meet students coming to Taiwan to learn Chinese from Switzerland, Korea, Thailand, Spain, The Netherlands, the UK and Indonesia. We usually have great time enjoying the meals and talking about each other's daily lives and cultures in nearby restaurants. Sometimes we visit beautiful places together in long holidays. This is a win-win situation-I learn some new words, and they learn Mandarin that they may not know on campus. I cherish these experiences for the fruitful memories we have and some interesting stories we learn from each other.
As a senior student majoring in Teaching Chinese as a Second Language, I secured golden intern opportunities through the courses in our department. In summer vacation 2021, I first worked as a teaching assistant in 5 online Mandarin classes. There, I met 25 students from all across the globe and saw their curiosity of Mandarin and Taiwan. The major challenge was that all the students had different proficiency levels and growing backgrounds. The teacher and I usually spent some time deciding the most suiting activities for the whole class. Seeing them make every effort to share their life stories in Mandarin is undoubtedly the best part in the classes. Some planning to enter universities in Taiwan contacted me and showed their strong desires about lives of studying in Taiwan. It was my pleasure to be a Mandarin teaching assistant.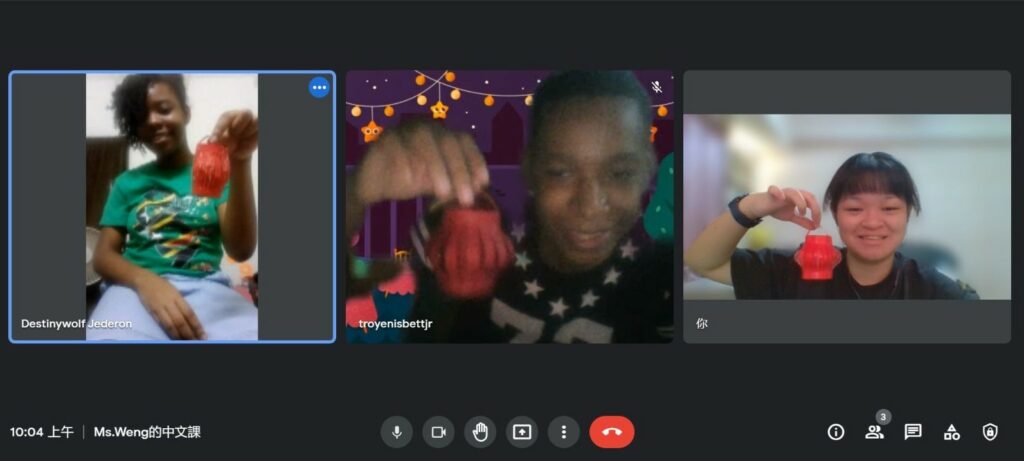 Then I started my journey of teaching Mandarin in online classes of Philippine, Saint Kitts and Nevis, Saint Vincent and the USA. My students aged from children to college students, interested in diverse topics or issues. At the beginning, it took much time to be well prepared for the weekly class-I had to write a complete lesson plan, putting all the goals I should achieve in my slides. After finishing the plan and the slides, I must rehearse the entire class circuit, including what I would say and what the students may answer. Fortunately, students' positive reactions greatly reduced my anxiety and I was much more confident to lead the classes in the following time. Teaching Mandarin is a joyful process as I am traveling around the world. I am always willing to hear from my students and glad to see they share more news whether in the classes or in their leisure time.
Without a doubt, the keen to meet international students and my strong interest in Mandarin motivate me to become a Mandarin teacher as my life career. I am grateful for the course arrangement in our department that I have learned not only the key elements for being an excellent Mandarin teacher but also the treasure in our cultures. As a saying goes, "Teaching and learning promote and enhance each other." I cherish the moment meeting with either my language exchange partners or students because we both acquire interesting and practical knowledge in the short time.